WNC CHEF CHALLENGE 2012 - FINALS!
Thursday, August 23, 2012 from 6:30 PM to 10:00 PM (EDT)
The grand finale will kick off the WNC Magazine Asheville Wine & Food Festival on Thursday, August 23 and only then will the "Best Chef in WNC" will be revealed. Tickets for the Grand Finale are $99 and include the six plated culinary creations from the chefs and two complimentary drinks (wine or beer.)
The judges for this event are Donna Florio (a senior food writer at Southern Living Magazine), Mackensy Lunsford (Food writer for Asheville's Mountain Xpress), Susi Gott Seguret (Founder and director for the Seasonal School of Culinary Arts), John Batchelor (Restaurant critic for the Greensboro News and Record), and more!
SWEET | August 24, 2012 | 7:30-10 p.m.
On Friday, August 24, prepare for delicious decadence at SWEET, featuring sips and samples of luscious desserts and confections, sparkling and dessert wines, and specialty cocktails and spirits. Held at the elegant Grove Arcade downtown, the event is 7:30 – 10 p.m. and includes live music and the opportunity to enjoy the charming shops of this historic architectural wonder. Want to make an evening of it? Members of the Asheville Independent Restaurant Association will commemorate this celebration with banners outside their restaurants. Take the opportunity to dine locally at any participating AIR restaurant, and save room for dessert at SWEET.

Price: $35 per person
Location: The Grove Arcade
1 Page Avenue
Asheville, NC 28801
The Grand Tasting
Aug. 25, 2012 | Noon-5 p.m.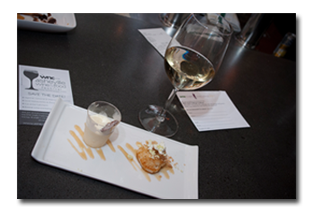 The Grand Tasting: Largest gathering of its kind in Asheville
On Saturday, August 25, from 1:30 to 5 p.m., the festivities continue with the Asheville Wine & Food Festival Grand Tasting, inside the sparkling newly renovated U.S. Cellular Center. Featuring a smorgasbord offering more than 300 wines, creations prepared by some of Asheville's most celebrated and internationally recognized chefs, and samples of local artisan food products such as Lusty Monk Mustard and Imladris Farm jams, the affair promises to be the largest gathering of its kind that Asheville has ever seen under one roof. Come ready to spend the afternoon strolling, sipping, savoring and shopping.
As if drinking wine all afternoon, noshing on local delicacies, and enjoying live entertainment weren't enough, the festival also features a mixologist contest, an amateur wine judging competition, cooking demonstrations, countless opportunities to meet, greet, and learn from area culinary experts, a fashion show of high-design culinary apparel, and plenty of tasty products to purchase and take home. (Many festival-goers even get a jump on holiday gift-buying at this event!)
Not a wine drinker? Come anyway – there's something for every taste. Sample craft brews that have earned Asheville its status as Beer City USA. Or discover spirits from the region's newest distilleries – this ain't your grandpa's moonshine. (And don't worry: limo and taxi services will be close at hand, and special lodging packages are available, too.)
General admission is $45 a limited number of
VIP passes will be available for $65, providing access at 12 noon
before the event opens for regular ticket-holders at 1:30. Besides beating the crowds, VIP tickets provide exclusive entry to the VIP Lounge where full pours of wine and delicious food samplings will be served in high style.
Price: $65 for VIP (access at noon)
$45 general admission (access at 1:30 p.m.)
Location: U.S. Cellular Center
87 Haywood Street
Asheville, NC 28801
To purchase tickets for each of the three events,
click here
.